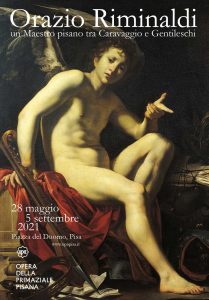 Museo dell'Opera del Duomo di Pisa
28 May – 5 September 2021
https://www.opapisa.it/notizie/mostra-temporanea-orazio-riminaldi/
Fondazione Sorgente Group is glad to give its contribution to realize the first monographic exhibition regarding Orazio Riminaldi: a caravagist painter from Pisa who was the pupil of Orazio Gentileschi. Fondazione has granted the loan of three of its most important works belonging to its collection: the "Repentant St. Peter" by Guido Reni, and the two "Saint Cecile", one by Guercino and the other from Cavalier d'Arpino.
Three painters personally met by Riminaldi, during his stay in Rome, influencing his artistic development. The exhibition is hosted in the prestigious context of the Museo dell'Opera del Duomo, in the famous Campo dei Miracoli square, in Pisa, next to famous reclined tower. The exhibition path is divided in nine sections: starting from the Pisa environment, where Riminaldi begun is career, then moving to the Roman one, with works by Guido Reni, Giovanni Baglione and Agostino Tassi, without disregard his first teachers as Ranieri Borghetti and the brothers Aurelio and Orazio Lomi Gentileschi.