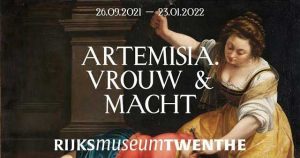 Rijksmuseum Twenthe – Enschede
26 settembre 2021 – extended until 27/03/2022
https://www.rijksmuseumtwenthe.nl/rubriek/2931/en/artemisia-vrouw-amp-macht
Two paintings belonging to Fondazione Sorgente Group have been lent to the Rijksmuseum Twente in Enschede, for the exhibition "Artemisia. Woman and Power", a retrospective show about the great baroque painter. The works "Diana Cacciatrice" by Guercino and "Repentant St. Peter" by Guido Reni have furthermore enriched this collection of paintings coming from privates and important public institutions as the Galleria degli Uffizi (Florence) and the Museo di Capodimonte (Naples), allowing to travel back through the artistic career of Artemisia Gentileschi, newly rediscovered and considered among the most important painters of Italian Baroque.
This exhibition project intends to focus on the woman who worked and imposed herself in a mainly masculine environment, without adapting to that standard and becoming an independence's icon, as well as a symbol of fighting against patriarchy. As daughter of a painter, Artemisia demonstrated an evident talent on her works, particularly regarding the subject chosen – first, the biblical heroine Judith – together with a feeling of revenge. The exhibition includes a selection of painting by artists who had an undeniable influence on the artistic development of this revolutionary painter, such as Guercino and Reni.