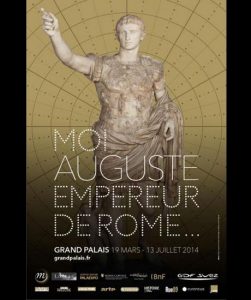 Grand Palais – Galerie Nationales, Paris
19 marzo – 13 luglio 2014
www.grandpalais.fr/fr/evenement/moi-auguste-empereur-de-rome
On occasion of the bi-millennium celebrations of Augustus' death, following the exhibition held at the Scuderie del Quirinale in Rome, even the Parisian museum of the Grand Palais, Galeries Nationales will be hosting and presenting on exhibition nearly 200 ancient works of art with a particular set-up. The ancient artefacts stand out as they are set in a homogenous white background, and their different materials and dimensions represent and synthesize the artistic and cultural period of the Emperor Augustus, which was marked by great change and who undoubtedly left a permanent mark in history. Among the works of art presented at the Grand Palais, a series of portraits have been selected, representing the Princes who had been chosen as imperial heirs and belonging to Fondazione Sorgente Group: Marcellus, Gaius and Lucius Caesar. The Foundation is proud to have had the possibility of granting on loan to the Parisian museum these portraits of certified and undisputed artistic and scientific significance, becoming part of the history of archaeological studies as iconographic evidence of the portraits of Augustus' heirs.