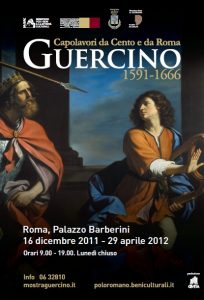 Palazzo Barberini, Rome
16 December 2011 – 29 April 2012
An important exhibition dedicated to Giovanni Francesco Barbieri, called Guercino, one of the major artists of Italian Seicento, born and lived in the city of Cento and also active in Rome between 1621 and 1623. The exhibition is promoted by Ministry for Cultural Heritage and Activities – Special Office for Historical and Ethnic- anthropological Heritage and for the Museum Pole of Rome and by the Council of the City of Cento. The exhibition, edited by Rossella Vodret and Fausto Gozzi (the director of Pinacoteca Civica of Cento) represents a significant tribute to Guercino but also to Sir Denis Mahon, recently passed, who dedicated the great part of his centenary life to study this artist. Fondazione Sorgente Group has contributed to this important exhibition lending its painting "Diana the Huntress", a masterpiece from Guercino's late period.