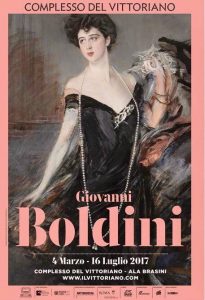 Complesso del Vittoriano, Rome
4 march – 16 July 2017
In occasion of one of the most important monographic exhibition about the art of Giovanni Boldini (Ferrara 1842-Parigi 1931), together with paintings from prestigious public and private collections (as Musée d'Orsay in Paris, l'Alte National Galerie of Berlin, the Beaux-Arts Musée of Marseille, the Galleria degli Uffizi in Florence and the Giovanni Boldini Museum in Ferrara) Fondazione Sorgente Group has lent the "Portrait of Josefina Alvear de Errazuriz" (1892), belonging to Valter and Paola Mainetti.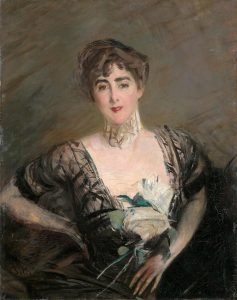 The exhibition includes over 150 works from oils, pastels, works on paper and engravings made by the great artist, accompained by others artworks by his contemporary fellow artists. The portrait of the wife of the Argentinian ambassador in France, Matias Errazuriz Ortuzar, it's a sample of the artistic sensitive of the painter, able to eternalized the elegance and style of the noblewomen, according with the taste of the so-called Belle Époque. During the exhibition, a watercolor belonging to Fondazione, entitled "
Horse and Coach
" was presented to the public, with speeches by Claudio Strinati, Tiziano Panconi, Marina Mattei and Sergio Gaddi.