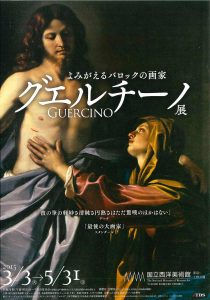 National Museum of Western Art, Tokyo
3 March – 31 May 2015
http://www.nmwa.go.jp/en/exhibitions/2015guercino.html
For the first time, an exhibition about Giovanni Francesco Barbieri – known as Guercino – one of the main italian baroque painters, has been organized in Japan. It can be considered one of the most complete exhibition ever set up about this artist, with 44 paintings involved, to help japanese people to get even more close to the XVII century italian art. Particularly this artist, who in Japan has not yet achieved the same fame of other old masters as Leonardo or Caravaggio. Fondazione Sorgente Group, which has always been sensitive about the art of this great master from Cento, has enthusiastically agreed to take part of this project, lending one of its masterpieces: "Diana the Huntress" painted by Guercino in 1658 for the earl Fabio Carandini.