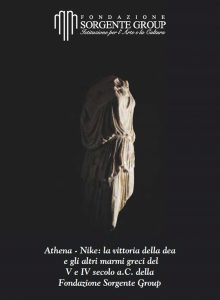 Spazio Tritone, Rome
Permanent exhibition
In the Tritone Exhibition Space has been set up a show, which is focused on the important sculpture of Athena Nike , made in 430 BC, in Parian marble. Thanks to a technological, multimedia system the statue can be virtually recreated in front of the viewer. This project was possible from an idea of Fondazione vice-president Paola Mainetti that, together with scientific research carried out by prof. Eugenio La Rocca and the technical support of Mizar, a team of multimedia specialist supervised by Paco Lanciano; all together they manage to recreate a supposed, original aspect of the sculpture and its own history.
Aside of the Athena Nike are displayed other works from 4th century BC, as three lekythoi  and an anphora loutrophoros made in Pentelicus marble, as a proof of the high skills of Greek artists on carving these lavish funeral monuments. Fondazione Sorgente Group represents the major collection of this kind of works, in the Italian territory. Furthermore, a few little statues depicting archaic idols as Fertility and Maternity are on display, together with a collection of bronze sculptures representing deer, from the Amlash civilization, in Mesopotamia.