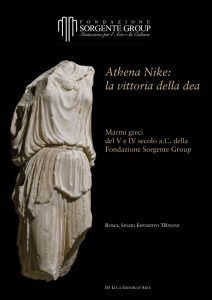 Athena Nike: la vittoria della dea. Greek marbles of the 5th and 4th century BC of Fondazione Sorgente Groupedited by Valentina Nicolucci
Roma 2013 (De Luca Editori)
An accompanying catalogue of the same exhibition based on Paola Mainetti's idea, Vice President of Fondazione Sorgente Group, and held at the Tritone Exhibition Space in Rome. The book, which includes writings by international archeologists such as Prof. Eugenio La Rocca, focuses on an original Greek sculpture of the 5th century BC, carved from a block of Parian marble called "lychnites", which has been digitally reconstructed through multimedia projections. To enrich the exhibition, the catalogue also presents other Greek marble sculptures, including a series of "Lekythos" funerary objects, of which Fondazione Sorgente Group is one of the major collectors worldwide.